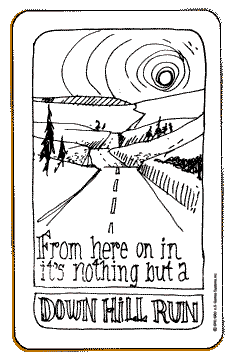 Morgan's Tarot Time again. I finished a tough final exam this week, and here is the card I pulled: From Here On In It's Nothing But a Downhill Run! Another wonderful card, a great one in a reading. Here is Morgan's interpretation:
It is a total coast from here to enlightenment and total liberation. Cut the strain and flow into what is. Buddha will watch over the situation.
I find it really important to note to clients that this card isn't the universe creating a wonderful result; usually this card appears after someone has worked their butt off to reach a new place (job, relationship, school, new child, new home. . .) It is great to affirm the work your client (OR YOU!) put in to get to this wonderful place.
In a world of endless striving to be better - more enlightened, more spiritual, better paid, better educated, healthier. . . whatever the struggle, this card is a reminder to relax into the stream of life.
Enjoy!